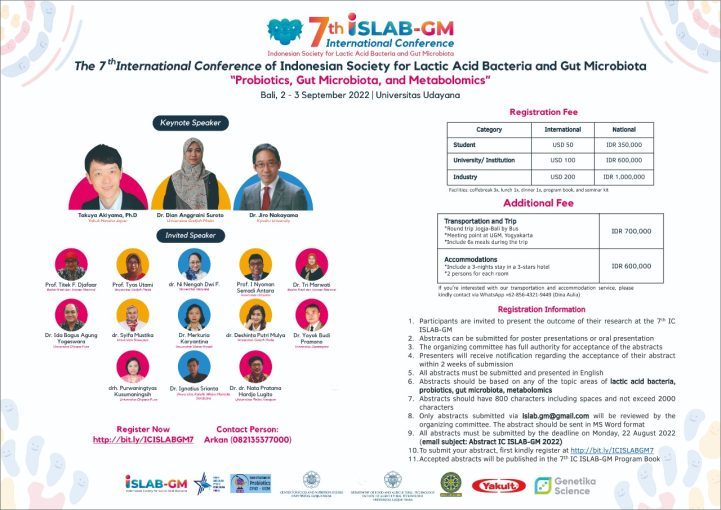 The 7th International Conference of Indonesian Society for Lactic Acid Bacteria and Gut Microbiota (7th IC-ISLAB)
CALL FOR ABSTRACT
Organized by:
Indonesia Society for Lactic Acid Bacteria and Gut Microbiota (ISLAB-GM)
Center for Food and Nutrition Studies, Universitas Gadjah Mada
Center of Excellence for Probiotics, Universitas Gadjah Mada
Universitas Udayana, Bali
Key Speakers
Prof. Jiro Nakayama (Kyushu University, Japan)
Dr. Dian Anggraini Suroto, STP, MP, M.Eng (Universitas Gadjah Mada, Yogyakarta, Indonesia)
Takuya Akiyama, Ph. D (Yakult Honsha, Japan)
Invited Speakers
Deshinta Putri Mulya, Sp.PD-KAI (K) (Universitas Gadjah Mada, Yogyakarta, Indonesia)
Dr. Ida Bagus Agung Yogeswara (Universitas Dhyana Pura, Bali, Indonesia)
Dr. Ignatius Srianta (Universitas Katolik Widya Mandala, Surabaya, Indonesia)
Prof. I Nyoman Semadi Antara, Ph.D (Universitas Udayana, Bali, Indonesia)
Dr. Merkuria Karyantina (Universitas Slamet Riyadi, Surakarta, Indonesia)
Dr. dr. Nata Pratama Hardjo Lugito (Universitas Pelita Harapan, Tangerang, Indonesia)
Ni Nengah Dwi Fatmawati (Universitas Udayana, Bali, Indonesia)
drh. Purwaningtyas Kusumaningsih (Universitas Dhyana Pura, Bali, Indonesia)
dr. Syifa Mustika, Sp.PD, KGEH (Universitas Brawijaya, Malang, Indonesia)
Prof. Dr. Ir. Titiek Farianti Djaafar, MP (National Research and Innovation Agency, Yogyakarta, Indonesia)
Prof. Dr. Ir. Tyas Utami, M.Sc (Universitas Gadjah Mada, Yogyakarta, Indonesia)
Dr. Tri Marwati (National Research and Innovation Agency, Yogyakarta, Indonesia)
Dr. Yoyok Budi Pramono (Universitas Diponegoro, Semarang, Indonesia)
Location and time
The conference will be held on-site at the Universitas Udayana, Bali on 2 – 3 September 2022
How to Register 
To join our conference as a participant, oral presentation, or poster presentation, you will first need to do online registration (https://bit.ly/ICISLABGM7).
Abstract can be submitted for poster or oral presentation
The organizing committee has full authority for acceptance of the abstracts.
Presenters will receive notification regarding the acceptance of their abstract within 2 weeks of submission
All abstracts must be submitted and presented in English.
Abstracts should be based on any topic areas of lactic acid bacteria, probiotics, gut microbiota, metabolomics
Abstract should have 800 characters including spaces and not exceed 2000 characters
Only abstract submitted via islab.gm@gmail.com will be reviewed by the organizing committee. The abstract should be sent in MS Word format
All abstract must be submitted by the deadline on Monday, 22 August 2022 (email subject: Abstract IC ISLAB-GM 2022).
Accepted abstract will be published in the 7th International Conference of Indonesian Society for Lactic Acid Bacteria and Gut Microbiota (7th IC-ISLAB-GM) programme book.