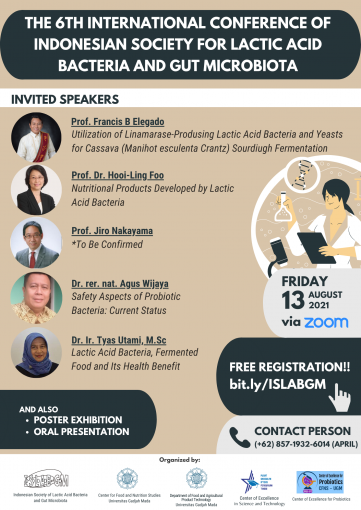 The 6th International Conference of Indonesian Society for Lactic Acid Bacteria and Gut Microbiota (6th IC-ISLAB)
CALL FOR PAPER
Organized by:
Indonesia Society for Lactic Acid Bacteria and Gut Microbiota (ISLAB-GM)
Center for Food and Nutrition Studies, Universitas Gadjah Mada
Center of Excellence for Probiotics, Universitas Gadjah Mada
Department of Food and Agricultural Product Technology, Universitas Gadjah Mada
Speakers
Prof. Francis B Elegado (University of the Philippines Los Banos, Philippines)
Prof. Dr. Hooi-Ling Foo (Universiti Putra Malaysia, Malaysia)
Prof. Jiro Nakayama (Kyushu University, Japan)
Dr. rer. nat. Agus Wijaya (Universitas Sriwijaya, Indonesia)
Dr. Ir. Tyas Utami, M.Sc (Universitas Gadjah Mada, Indonesia.)
Program 
Friday, 13 August 2021
On Zoom Meeting
How to Register 
To join our conference as a participant, oral presentation, or poster presentation, you will first need to do online registration (https://bit.ly/ISLABGM).
Abstract may be submitted for poster presentation or oral presentation. Choose only one category.
The organizing committee has responsibility for acceptance of the abstracts.
All abstracts must be submitted and presented in English.
Only abstract submitted via islab.gm@gmail.com will be reviewed by the organizing committee.
All abstract must be submitted by the deadline on August 7, 2021.
Accepted abstract will be published in the 6th International Conference of Indonesian Society for Lactic Acid Bacteria and Gut Microbiota (6th IC-ISLAB-GM) programme book.
Abstract Submission Guideline
Presenting author's contact details:
Email address
Phone number
Presentation type:
Oral Presentation
Poster Presentation
Author and co-author's details:
Affiliation details:
Department, Institution/University, City, Country
Title:
Abstract text
Keywords
Word processor
Scientific category
Lactic Acid Bacteria
Gut Microbiota
Probiotic
Important Date:
Deadline for submission of Abstract : August 7, 2021
Deadline for submission of poster : August 7, 2021